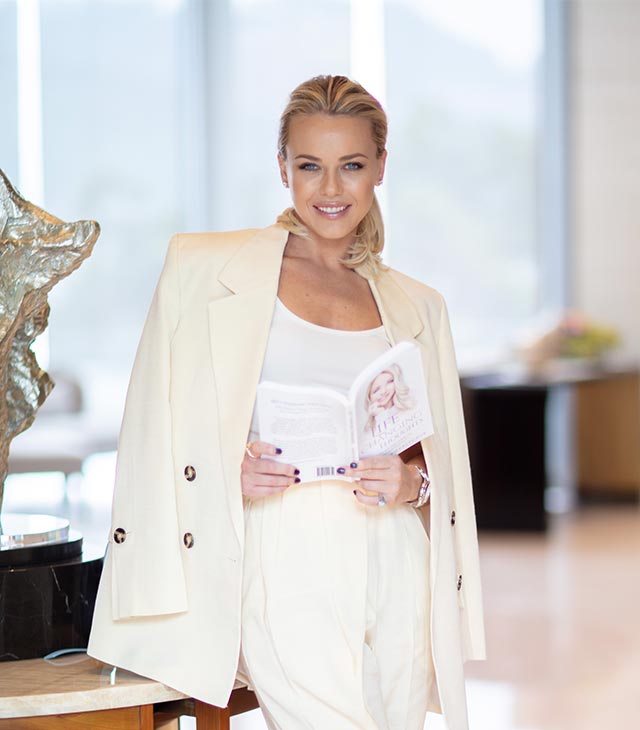 Milestones
2011 -2012

Graduated in Bachelor Arts in Economics and Social at Group Scolaire Notre Dame De France
Graduated in LEA English/Russian at University Paris-Sorbonne

2012 – 2015

In 2012, Maryna further her studies taking the honours at Instituto Marangoni in Fashion Styling & Business whom also elected Maryna as an Ambassador assisting with numerous marketing campaigns. By 2013, Maryna became a brand consultant advising numerous global brands including Leonard Paris, Tory Burch, Balmain, M Missoni, Kate Spade to name a few.

2015 – 2019

Maryna explored the life of a corporate as an Investment Associate at CDIB Capital Group and holds Executive Diploma in Investment Banking (HKU 2017-2019). Soon realising the stresses in life and how important mind and body balance is. The journey of assisting people in resolving current life issues through Maryna's ability to tune into repressed psychological and emotional traumas really began. Since then carried out extensive research on social work and knowing on a deeply intuitive level that life coaching and psychology work was her calling.
In 2019, Maryna obtained her Advanced Diploma in Life Coaching & Positive Psychology. Further in 2020 Maryna was certified for 2019 Bali Yoga East West 200 hours Yoga Certificate, 2020 Yale Moralities of Everyday Life Certificate, 2020 Yale Introduction to Psychology, 2020 Yale The Science of Well-Being Certificate and 2020 Stanford Food and Health Certificate.

2019 to Present

As a certified life coach, Maryna became increasingly aware of the power of the mind-body connection, and in 2020 Eden Life Academy was established; an online platform for integrative therapies. The aim is to create a safe space that provides the tools and resources needed to better manage stress, increase resilience and build a healthier lifestyle. Maryna made it her life purpose to help others embody their most confident selves. Through her studies in social work and psychology at the Hong Kong University, she found a new appreciation for the art of human connection and began looking back through her own life experiences to gain a new perspective.

It was important for her to understand what makes people happy, successful and creatively fulfilled. This insatiable quest on human potential prompted her to write her book Life Changing Thoughts and launch her Maryna Eden's Aromatherapy Clips.

Coming soon will be the launch of Maryna Eden 5 Week Manifestation Program that aims to unfold how to declutter your mind, understand your value and express your authentic self.
Featured On
If you are a woman looking for inspiration, building your confidence and empowering woman with positive thinking, then you are at the right place.
In my BLOG, you will find mindsets techniques and topics. I am all about offering a multi-dimensional approach to cultivating true self-expression and self-love.
My BLOG covers:
I aim to provide you with a wide array of editorial content and the opportunity to shop multiple partnering brands, as well as Maryna Eden products.
EDEN LIFE ACADEMY
If you feel like you have lost your purpose or direction or are having trouble reaching the next stage of your life, our therapy can provide you with the clarity and self-understanding to get you where you need to go.
Maryna offers life coaching or counselling sessions focused on therapy for men and women at Eden Life Academy. Together with a group of practitioners, Maryna's mental and emotional healing approach focuses on empowerment and compassion, to encourage open communication on top of mindfulness to enhance overall well-being in all aspects of one's life. Eden Life Academy's practitioners have years of training and considered experts in their respective fields. Maryna's aim is to approach every session with a warm and non-judgmental manner when helping both men and women to work through their emotional turmoils in Hong Kong.
Maryna, who I call my Guruji, is one of the greatest teacher I have, who has contributed a big part of the transformation of my life. I was a broken pieces when I met her, she deeply touched my soul. She showed me ways how to love myself, to love unconditionally, to live life to the fullest. And then I slowly picked myself up again through her teachings and guidance. I also gained confidence, and then joy flowed into my life. I am truly blessed to have her help and guidance . Please, if you feel that you are somehow low in life, meet Maryna!

I very rarely take time to post reviews. I don't, usually because I don't have time to go into an in depth analysis to back up why I did or didn't find a book was valuable. I read approximately 10-15 new books per year and this is the best book I've read in the past year. I am still working to implement many different aspects, but it's truly changing my life for the better.

Absolutely, it is a must-read for everyone that would like to be happier.

This book will change your life. Maryna's ideas are quite revolutionary, as is the whole of positive psychology predicated as it is on using what we know about our brains to enable us to use them more effectively, before positive psychology came along, the psychological effort of humanity was focused on the negative side of our mental lives, exploring all of the things that could go wrong with the complex human mind. Mental Illness and psychology were basically synonyms, with the medical disciplines fetching when brains go wrong over applying it's understandings in a more balanced, life-affirming way. Positive psychology restores that balance, acknowledging that there's a lot we can do in weeding our own mental garden in a manner that means we live as happy a life as possible. In fact, the premise of Maryna's wonderful book is that - happiness doesn't follow success, it is the other way round. We are more likely to be successful when we are positive and happy - up to 30% more successful - because brains are in a positive state that is more imaginative, responsive and flexible.

I am amazed at how much I've changed with the help of Maryna! Reading her book was a real eye-opener. It has been extremely helpful in creating the life I'm aiming for. Of course, life is a journey and things take time, but taking the first step is the most important thing and I'm so glad that I found her to help me in this journey.

I am truly blessed and grateful that the universe brought me to this beautiful soul, which helped me with my transformational journey. Living hectic and stressful life in a busy city can make you very easily get lost in your mental and physical well-being. Maryna very gently, without me even notice how it happened, she guided me to the right path and brought to my attention that I need to start looking after myself. She explained me what was behind of my toxic relationship choices. Maryna's personal and unique approach to my problems helped me with my panic attacks, anxiety, and depression. It's still a long way to go but now I have confidentiality in myself and I'm developing self-love. I learned how to listen myself, my body, and my mind. I would highly recommend to everyone experience this magical transformation which will change your life forever.

Was introduced energy and healing crystals and how to use them. I really enjoyed the time Maryna spent listening to my personal stories, connecting, and understanding who I am and what I want. Her book also helps in organising your thoughts and actions in a positive way.

Wonderful experience during my stays in Hong Kong. I had several meetings with Maryna Eden. I was blown away by her kindness and openness. She listens well and has very many useful suggestions. Our sessions helped me gain confidence in myself and enjoy every single moment. I highly recommend Maryna and Eden Life Academy. Last but not least her book "LIFE CHANGING THOUGHTS". One of my favorites!!